Please note the following:
Candidates interested in enrolling into these courses (see below) can register by logging in to their Gmail account and by clicking this link: https://bit.ly/3cUudgc
Eligibility: The applicant should have at least passed Class XI / Equivalent.
We will send you a student ID number to your register e-mail ID in proper time.
This number is required while paying your fees online. We are in the final stages of enabling online payment.
Admissions will take place till 10th July 2021 (provided seats are available) on a first-come first-serve basis.
Classes will be held online through Google Meet till the Covid situation eases. The joining link will be sent to your class's Whatsapp group created by your class teacher.
FIRST SEMESTER (6-MONTHS) LONG TERM COURSES:
▪ Bengali ▪ French ▪ German ▪ Italian ▪ Portuguese ▪ Spanish ▪ Tamil
(For details please see our prospectus : https://bit.ly/3wML6RR)
SIX-MONTHS COMMUNICATIVE CERTIFICATE COURSES
(COMMUNICATIVE/SPECIAL JUNIOR):
▪ Chinese ▪ French ▪ German ▪ Japanese ▪ Korean ▪ Russian ▪ Spanish
COURSE OPTIONS AND CHARGES: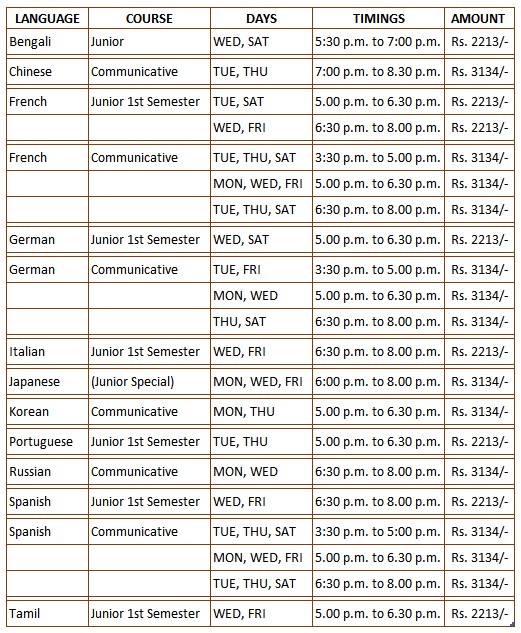 You may also download the notice here: Registration Notice–Languages other than English
Swami Tadvratananda
Principal, School of Languages.