The Museum and Art Gallery

Sri Ramakrishna and Swami Vivekananda were both connoisseurs of the arts. From his earliest childhood, Sri Ramakrishna observed his father make beautiful garlands for the family deity, Raghuvir. He gradually developed a taste for painting and also learnt clay molding of images of gods and goddesses from the potters. At a later date he restored the broken leg of the idol of Lord Krishna in such an ingenious way that it still stands to this day (after a lapse of 150 years!) in the Vishnu Temple, also known as the Radha Kanta Temple, in the Dakshineswar Temple complex. The sketches and drawings he has left behind portray the firm and clear hand of an accomplished artist.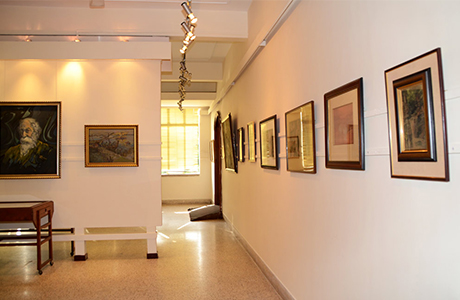 Swami Vivekananda was also extremely sensitive to all that was positive and manly in fine art. During the course of his wanderings in India he visited innumerable historic places and observed first-hand the works of the great artists, architects, and sculptors of the past. While travelling in America, Europe and England, he visited art museums and galleries and engaged with famous artists of the time. Swamiji's enduring contribution to art is his conceptual design of Sri Ramakrishna's Temple at Belur Math. Even as he could not see it completed in his lifetime, the temple built on his guidelines is an architectural masterpiece combining pristine Eastern and Western traditions.
The emblem of the Ramakrishna Order designed by Swamiji is also an unique and unparalleled work of art created in an exalted mood of spiritual inspiration. It is a profound symbol of harmony and synthesis leading to life's fulfilment. This is indeed what he wanted every man and woman to be, to realize, either in the East or in the West. The meaning behind this emblem, in the language of Vivekananda himself is as follows:
"The wavy waters in the picture are symbolic of Karma, the lotus of Bhakti, and the rising-sun of Jnana. The encircling serpent is indicative of Yoga and awakened Kundalini Shakti, while the swan in the picture stands for Paramatman. Therefore, the ideal of the picture is that by the union of Karma, Jnana, Bhakti and Yoga, the vision of the Paramatman is obtained."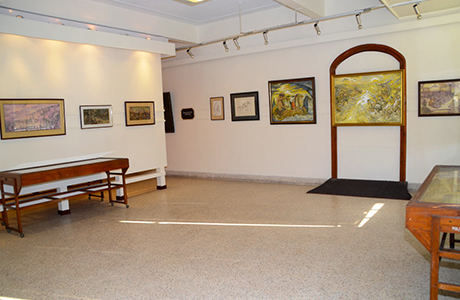 Swami Vivekananda founded the Ramakrishna Sangha on May 1, 1897. The aim of the Sangha, as he put it, "..is to preach those truths which Shri Ramakrishna has, for the good of humanity, preached and demonstrated by practical application in his own life, and to help others to put these truths into practice in their lives for their temporal, mental and spiritual advancement." He also laid down the methods of action of the Ramakrishna Mission, which were to be: (a) to train men so as to make them competent to teach such knowledge and sciences as are conducive to the material and spiritual welfare of the masses; (b) to promote and encourage arts and industries; and (c) to introduce and spread among the people in general, Vedantic and other ideas as elucidated in the life of Sri Ramakrishna.
The Museum and Art Gallery at the Ramakrishna Mission Institute of Culture draws its inspiration from item (b) of 'Methods of Action' as laid down by Swami Vivekananda, especially that the Mission will 'promote and encourage arts and industries'. The museum has been in existence at the Institute's current premises in Gol Park since 1976.
The museum's display space comprises a medium-sized hall, a verandah, and two adjoining rooms. There is also a lecture room, curatorial offices, and a storeroom. The museum's collection comprises a good number of artworks and antiquities classified under – painting, sculpture, manuscript (including old parchments – "puthi"), folk art, ivory painting, textile, Pata painting, litho-print, silver ornament, terracotta, and laminated photographs.
The museum has on exhibit a permanent display of artifacts; it also organizes one annual exhibition and periodic displays based on thematic or taxonometric (period, size, composition, and utility) considerations. It offers docent services with guides providing detailed information on exhibits to visitors.
ACQUISITIONS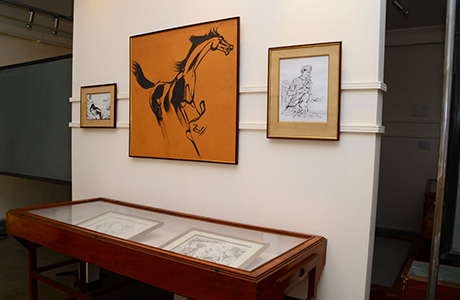 The Museum acquires artifacts by purchase and through donations. Many noble souls donate their collections of art and antiquities to the museum. Recently, several famous Indian artists – Jogen Choudhury, Sanatan Dinda, S. Nandagopal, Wasim Kapoor, Yusuf Arakkal, Paresh Maity, Chandi Lahiri, Surya Prakash, M. Senathipathi, and Lalita Lajmi – have each donated an artwork to commemorate the 175th year of the advent of Sri Ramakrishna (2011) and the 150th birth anniversary of Swami Vivekananda (2013).
ACADEMIC ACTIVITIES
The Museum allows students from the universities of Calcutta, Rabindra Bharati, and Jadavpur to prepare dissertations based on its exhibits. In this way, it acts as a parallel academic institution.
The Museum offers a highly-valued 10-month certificate course on 'Appreciation of Indian Art'. Comprising 75 modules, the course covers the following five topics:
Story of Art and Aesthetics
Development of Mural and Miniature Painting in India
Sculpture and Architecture in India: Early, Medieval, and Modern
Development of Art in India – 19th and 20th centuries; and
Minor and Folk Art of India.
More than 30 artists, art historians, art critics, and museologists are attached to the Institute as faculty members for this course.
In addition, the Museum has started a course on Drupad singing for children.
THE SARADA DEVI SCHOOL OF FINE ARTS AND CRAFTS
This prestigious art school is attached to the Museum. It conducts the following two main courses:
Five-Year Course in Art and Craft for School Children (Age group 7 to 13 years). Topics covered:

Painting
Drawing
Craft, and
Work-Study

One-Year Advanced Course in Painting (Age group 15 to 35 years). Topics covered:

Survey of World Art
Short History of Art and Culture
Values in Art
Form, Perspective, and Space
Drawing and Composition
Life Drawing and Sketch
Interpretive Figure, and
Colour and Design.